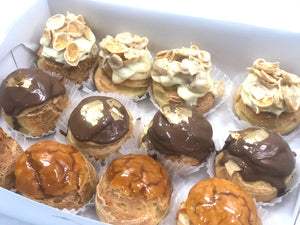 When was the last time you had these adorable cream puffs? 
One most celebrated dessert in Paris is here to make your hearts and tummy full! 
100% Homemade with the best premium ingredients, it will surely make your loved ones smile. A puff pastry dessert filled with vanilla flavored cream inside and topped with different flavors! 
We have 4 flavors available: (Depends on available flavors) 
Belgian White Chocolate Cereal 
Belgian Dark Chocolate 
Belgian Milk Chocolate
Classic Caramel Crackling 
**Motorcycle delivery friendly**
Order a box today!