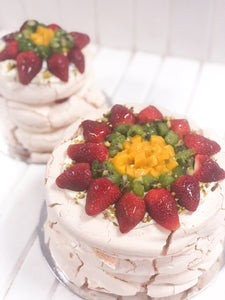 A light and fluffy meringue cake filled with creamy whipped frosting topped with fresh strawberries and crushed pistachios.
VERY FRAGILE/ BEST EATEN ON THE DAY OF DELIVERY
Reminder: This cake contains fresh fruits & dairy ingredients with no added preservatives. Cracks and Falling Meringue are normal.
Shelf life: 1 day only
*1pc candle included 
IMPORTANT REMARK: You can put a note card on your order when we deliver. Kindly write it down on the NOTES tab on your cart.