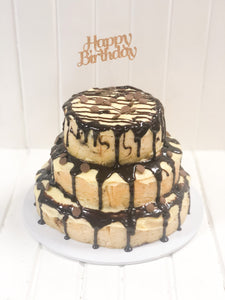 with Topper and simple decors included 
Flavor: Classic Cinnamon Rolls with Chocolate drizzle 
Storage and Shelf Life: 
Best eaten on the day of delivery.
If eating it for later, please keep in an airtight container
Microwave for 20 to 45 seconds with a glass of water inside  = soft cinnamons
Toast for 1 to 2 minutes = crunchy cinnamons
Shelf life: 2 days in room temperature/ 4 days in the fridge /
2 weeks in Freezer  (Thaw for 1 hour before heating)
Best paired with a hot coffee or tea! Enjoy!
**Good for CAR delivery/pick up. Motorcycle not allowed.
IMPORTANT REMARKS: A note card for your dedication is available upon request. You may fill it up in the cart page.